Science kits and Toys
My New Toy Clip Circuit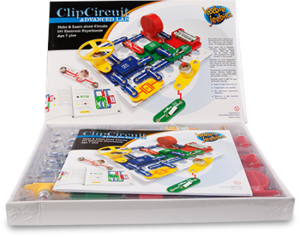 My New Toy Clip Circuit
I recently got the chance to have a go at the new Heebie Jeebies Clip Circuit that Switched On Kids offers. As soon as I opened the box, I saw a vast array of different pieces included with the kit. From simple connector blocks to a sound sensor, no less, the kit had it all. It even had a magnet-operated switch! And for those who are prone to breaking things, don't worry, they even included replacement fuses. The manual on the underside of the lid will take you through all the basics of circuitry, so make sure to read that. I certainly learned a lot from the book alone. And then you get to the good part – what you were waiting for – opening the kit and getting the chance to do some hands-on exploration for yourself.
The clips may hurt your hands after a while, but it's so much fun to see what you can do and the things you can create. If you're not really the creative type, as I said earlier, the kit also has a manual with 188 experiments or, as I like to call them, creations, each with diagrams to guide you along the way. There was so many to choose from! I personally decided my favourite was actually one of the first; the helicopter (Experiment 14). I discovered that you could actually make the yellow fan fly if the connections were made in the right orientation.
I do encourage you to find your own favourite though! Overall, this kit was so much fun and I would recommend it to children (7 years and over, of course), who have an interest in electronics, and maybe even flight.